I was browsing around Barnes & Noble after my last disappointing R.A. Salvatore book when I caught sight of what appeared to be a teenage angst filled ninja fantasy series: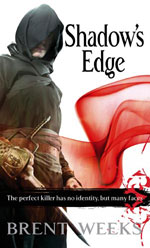 I passed it over without a second thought and went to meet my friends across the mall for dinner (nasty expensive place with horribly seasoned salmon). On my way out I had this itch to get Salvatore's latest piece out of my brain, so I ran back into B&A to buy this stupid looking lolimmapwnu deal. The very second I tore my eyes from the ending of that first book I had to go buy the other two! I swear I've never been into a book so much that I read through it in one night.. I don't think I've ever actually burst out laughing while reading a book and was unable to continue for a good ten minutes.
The Way of Shadows, Shadow's Edge, and Beyond the Shadow's have got to be my most favorite rogue/assassin books of all time. This is -exactly- what I wish Drizzt had been. Fuck your consciousness, you got a job to do! I got sick of Drizzt's emotional turmoil every other time he had to make a fucking decision about his life. It reminded me too much of myself to be of any use.
Drizzt: "I beautifully dance the dance of blades with emotions strung with weaves of silver and grace! But, Hark! Have I slain thee for thy own desireful sins?!"
Kylar: "I stab your face with your friends arm I just sliced off because I was paid to, stfu. Do I feel bad? Yeah.. kinda.. nope."